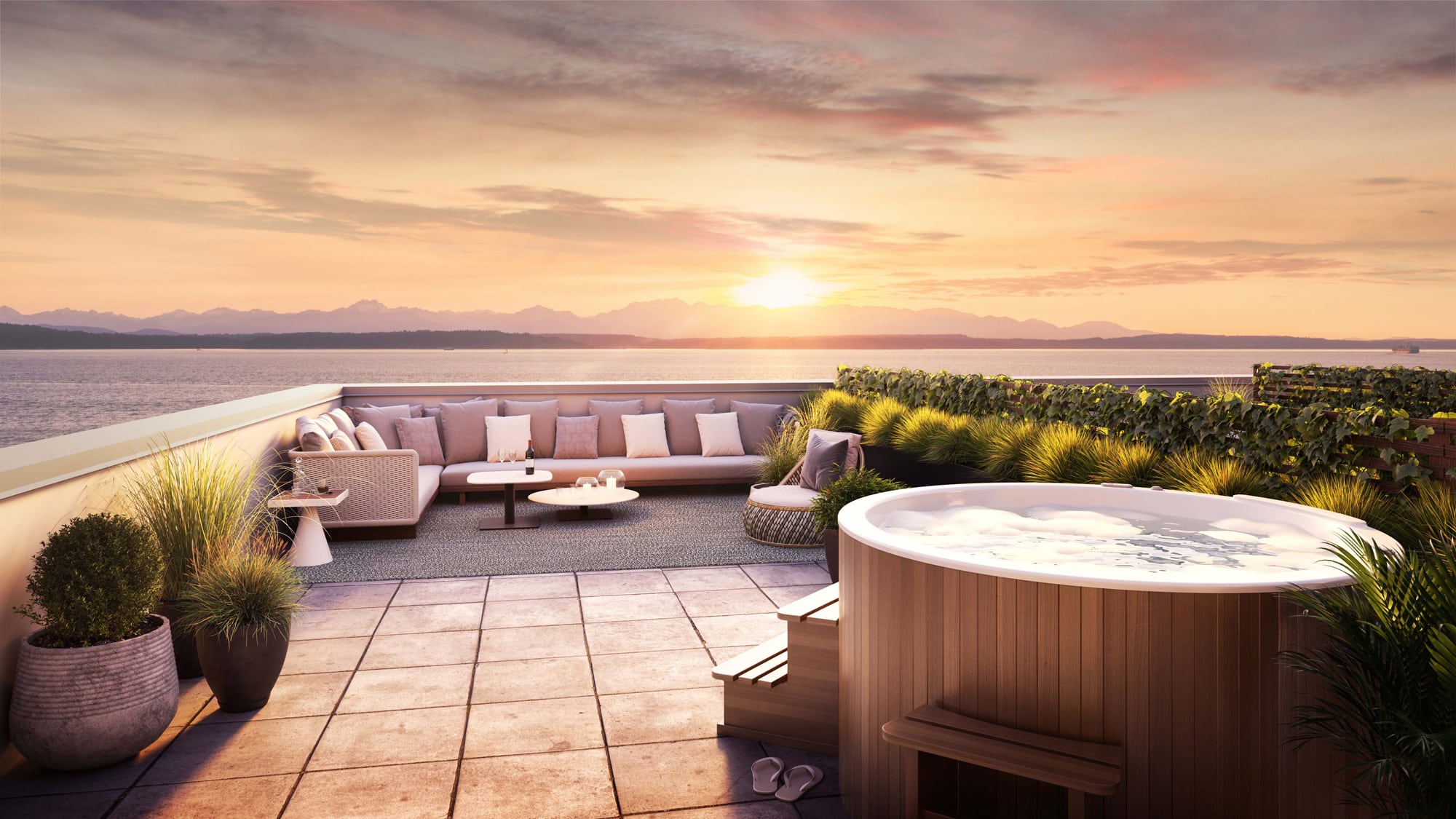 Dean Jones | CEO/Owner Realogics Sotheby's International
Building Value on West Seattle's Waterfront
Dean Jones is the CEO/Owner of Realogics Sotheby's International, Seattle's premiere real estate consultancy and brokerage specializing in new construction, multifamily and resale properties of all categories. He has 25 years of design, development, marketing and sales experience in British Columbia, Los Angeles, San Francisco, and since the mid-1990's, Seattle. There is nobody better to speak with about the state of the luxury residential market in the Pacific Northwest and its context relative to other peer cities. He and his team find homes for those who are excited to live in Seattle.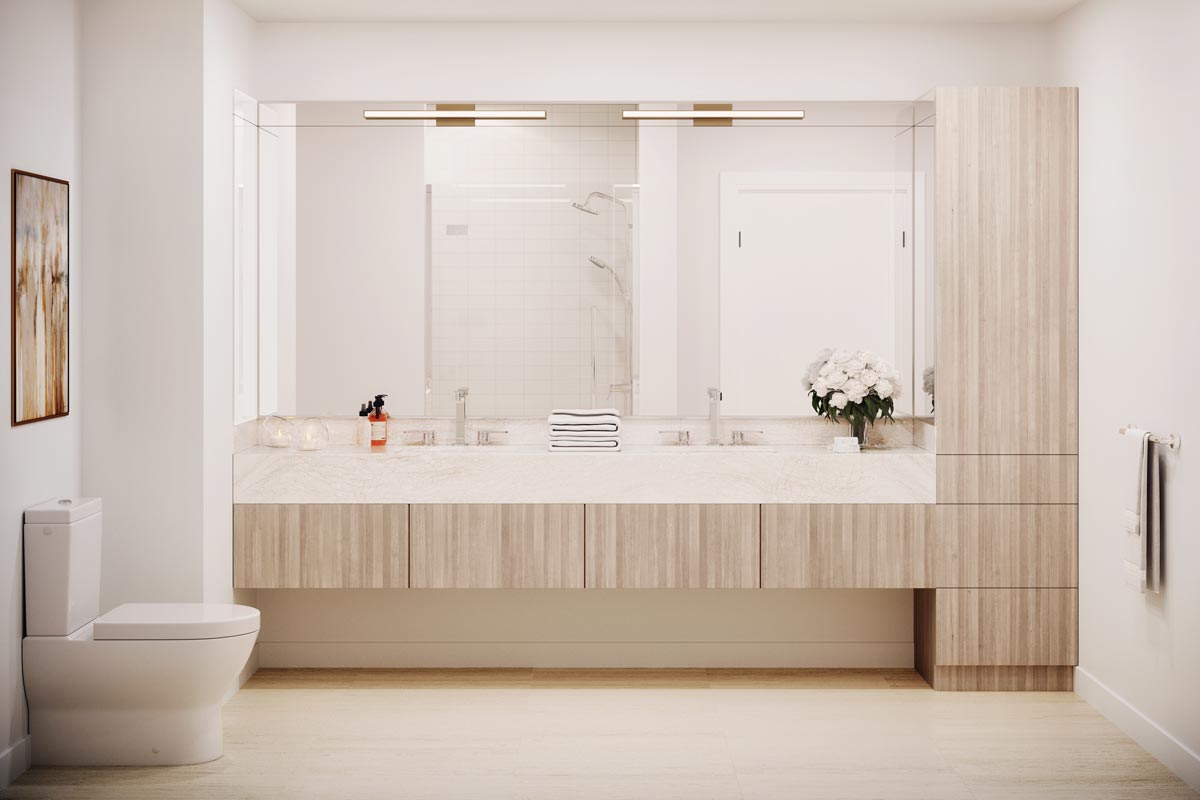 Tell us about the opportunity as you see it in the Seattle market.
Dean: When you look at our peer group markets along the West Coast, Seattle is a relative bargain. We have a long runway for capital appreciation so those in the market are buying into a relatively future-proof investment compared to other gateway cities. We are all keenly aware of the incredible economics of the region, we have a relatively high median household income, especially when compared to the median home price, and we have an audience that really appreciates quality. And with no state income tax and high-quality of life, the region is increasingly a target of inbound residents and investors fleeing other states, such as California. I think they call it the Evergreen State because it seems easier to build equity here and keep more of it from being spent in taxes.
What does that mean for prospective buyers at Infinity Shore Club?
Dean: Infinity Shore Club is the first of its kind and it may be a very long time before we see anything like it again. It took nearly 25 years to assemble the five lots on West Seattle's waterfront so there is restrictive supply to meet very specific demand. It is also ahead of the pack in terms of premium waterfront residences. The quality being delivered is consistent with or exceeding anything else in the market with penthouses. I like to refer to it as a "horizontal high rise" with fit and finish designs that are second to none. Finally, there are only 37 residences, so it's pretty exclusive. You're not only a resident of your 1,500+ square foot waterfront home, but also 1/37th owner of the thousands of square feet of incredible indoor and outdoor amenity space.
What are some comparable developments?
Dean: One Steuart Lane on San Francisco's waterfront is selling for upwards of $2,400 per square foot. The Sanctuary in West Vancouver, British Columbia is selling for up to $2,000 per square foot. Resales of a condominium built in the 1960's in Laguna Beach are asking nearly $3,000 per square foot.
Seattle hasn't caught up yet but it's only a matter of time. Infinity Shore Club is less costly but will establish a new benchmark for both product and pricing. The only other property locally that comes close in concept and amenities is the Four Seasons Private Residences with just 36 units, an exterior pool, and it shares the same interior designer, Susan Marinello which clearly set new values when it was introduced a decade ago and has absolutely accrued values that range from $1,500 to more than $2,000 per sq. ft. today. A better example might be The Four Seasons Private Residences on the beach in Miami, where prices are achieving more than $2,500 per sq. ft. – significantly higher as compared with the Infinity Shore Club Residences introductory prices today.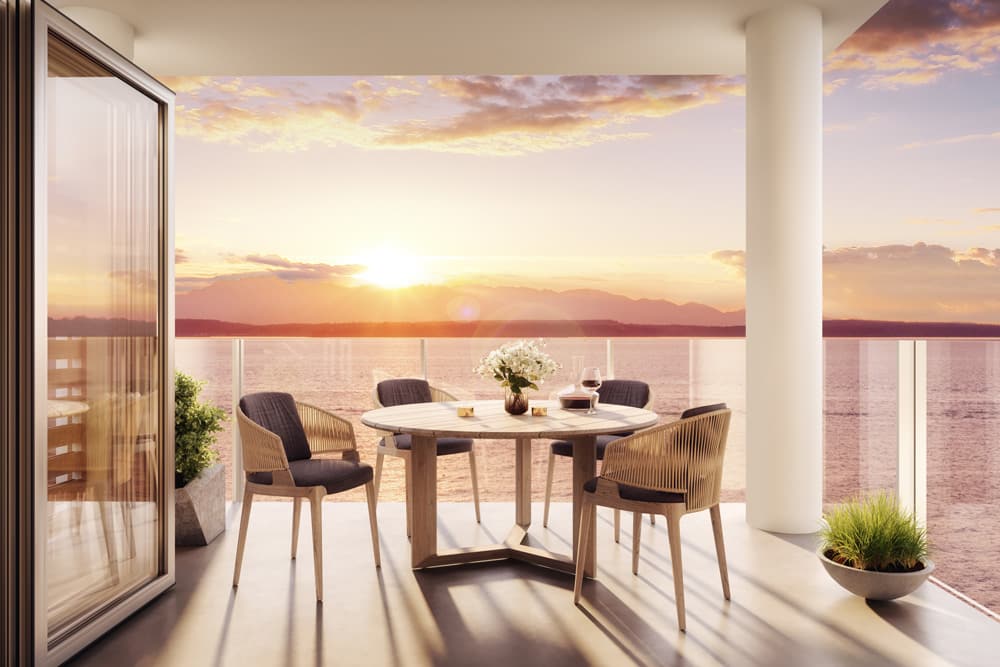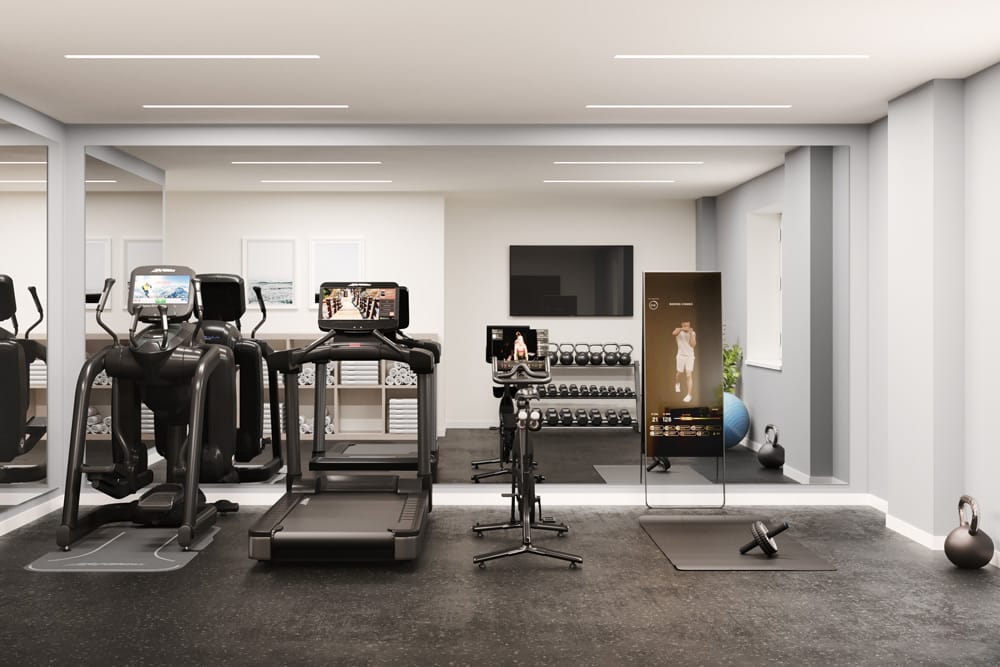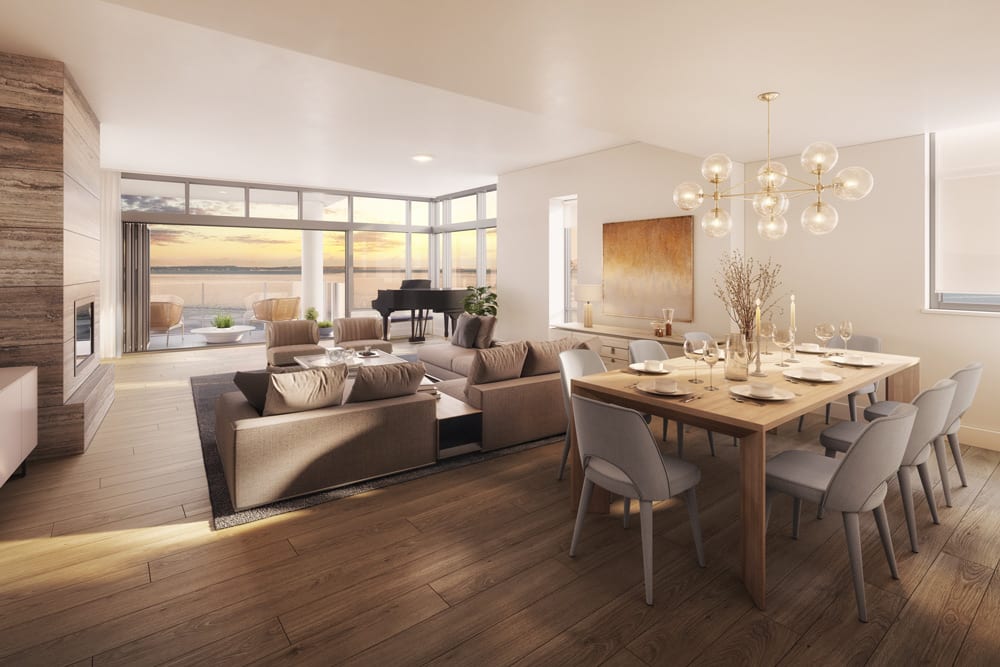 What else do you think buyers will find appealing?
Dean: Infinity Shore Club is not just selling the real estate but also a lifestyle. It's living a permanent vacation. The design is curated around social connections, health and wellbeing, indoor/outdoor space, the roof deck, fitness center and of course, the infinity pool. It's defining a super prime real estate category. This offers the Alki waterfront in a private offering with concierge amenities and privacy.
The Club element means you are a member of a relatively boutique high-service community where you can make good friends or enjoy it on your own. There is a theatre of activity with the waterways and scenery that has an energy we enjoy in places like Pacific Beach, Laguna Beach, Venice Beach. I also think this property will become an heirloom for families that pass it down for generations, which is why inventory like this is so anemic in other markets, and that bodes well for price appreciation. Consider right now we have 37 homes available during presales but a few years from now, we may only see one, two or even none at all – so the supply and demand imbalance would dictate higher values ahead.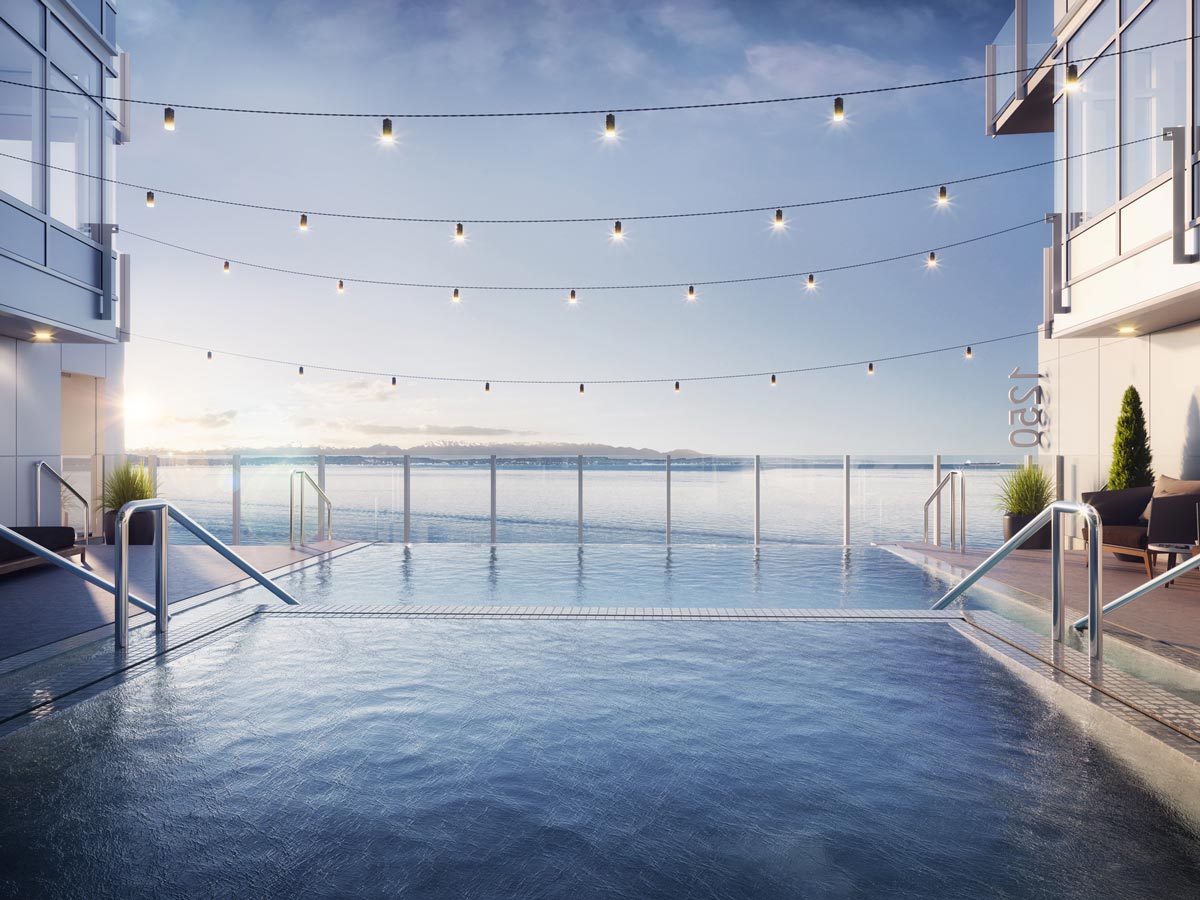 Who is the likely resident for this property?
Dean: The design and development team are not trying to serve everybody. It's nice to know your fellow owners have a similar investment and a shared appreciation about home management and are able to maintain a quality building like this. The likely audience includes tech professionals who like living near the city but not in the city or for those relocate from the Bay Area as they understand the relative value proposition and income tax implications. Infinity Shore Club will also appeal to the downsizing empty nester, especially those from West Seattle. It's a perfect sunset (no pun) from the large single-family home for those likely have the equity to buy a second home in another market or travel the world with their new "lock and leave" lifestyle. It's all about rediscovering their passions and the benefit of not maintaining a single-family dwelling that allows you to head out of town at a moment's notice. With a home like Infinity Shore Club, returning to Seattle will also feel like a sanctuary.
In real estate, it's all about location, location, location – right?
Dean: Well, that's true, especially in this case. But I would add that it's also all about value, value, value. Infinity Shore Club is built for those who recognize and appreciate value. That means value right away, value against peers, and value for the future as the inventory for waterfront condominium estates that allow you to age in place and have a protected view are going to be hard to come by. All that adds up to maintaining incredible value. For me, I like lifestyle investments – assets that deliver on a life better lived but also hold, if not build, the bottom line. That's the type of luxury home you can feel good about owning.