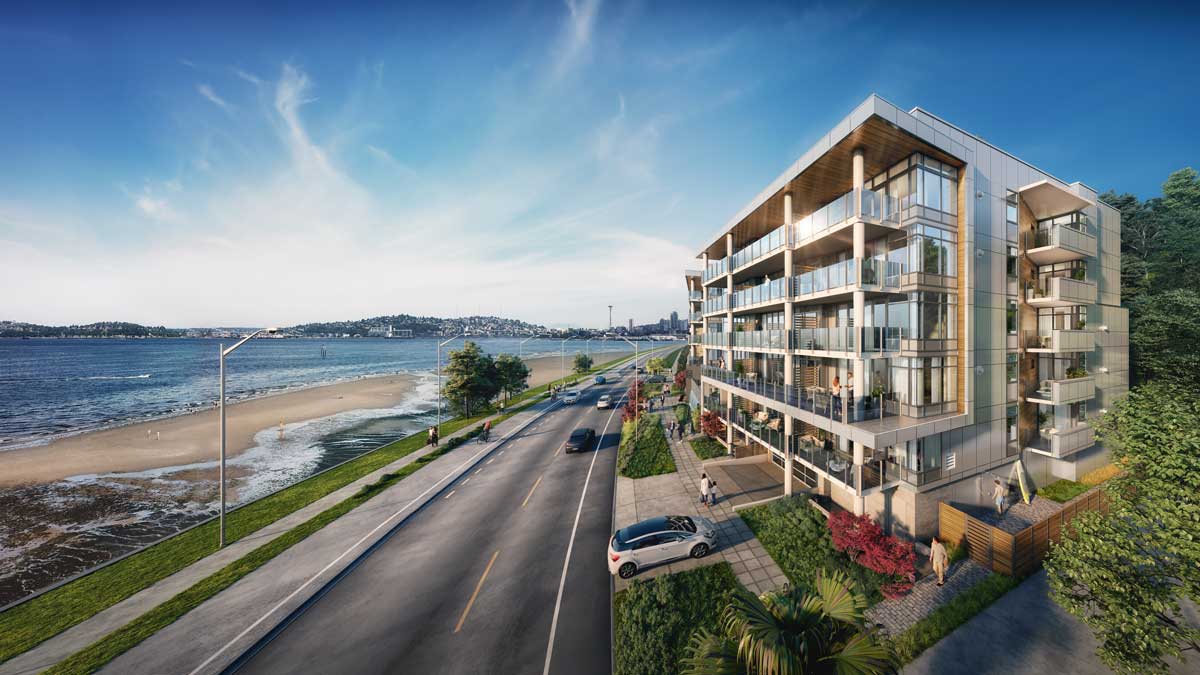 Bob Tiscareno | Tiscareno Associates
Delivering on Big Expectations
Bob Tiscareno is the "go-to" visionary expert for multi-family architecture in Seattle. With a Master of Architecture from Harvard University and nearly 30 years of experience leading his firm, Tiscareno and Associates, he has worked on award-winning projects that promote innovation and sustainability and in doing so have shaped communities throughout the greater Pacific Northwest. Bob has a record of notable projects, winner, or finalist, of more than six Project of the Year awards in the Pacific Northwest that recently include The Danforth on First Hill, Ballard Modera, Metro 112 in Bellevue, Redmond Triangle, The Cove on Capitol Hill. He has turned his attention now to Infinity Shore Club on Alki Beach.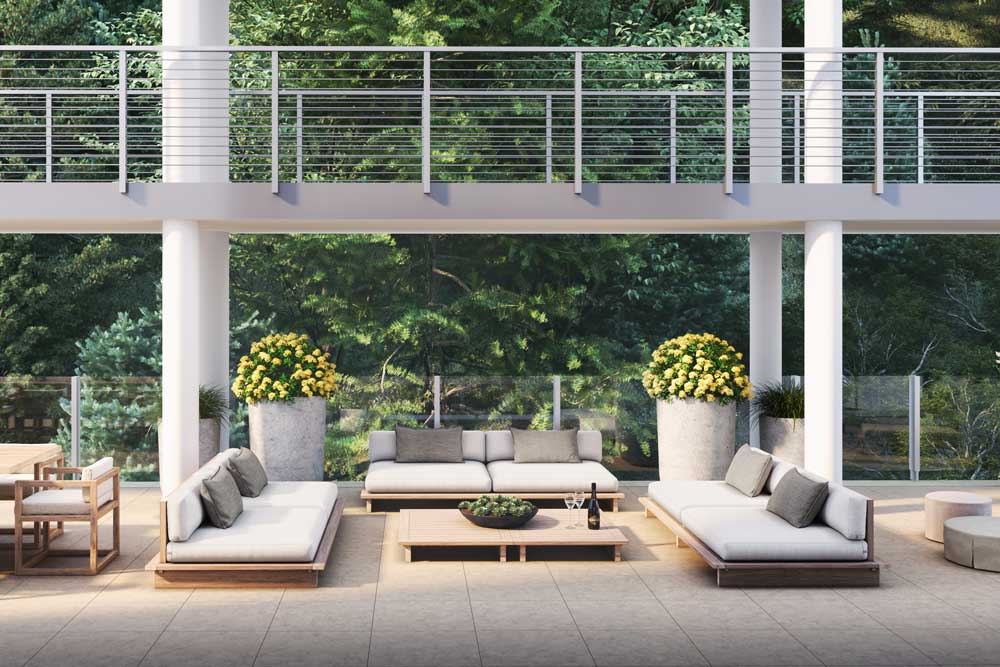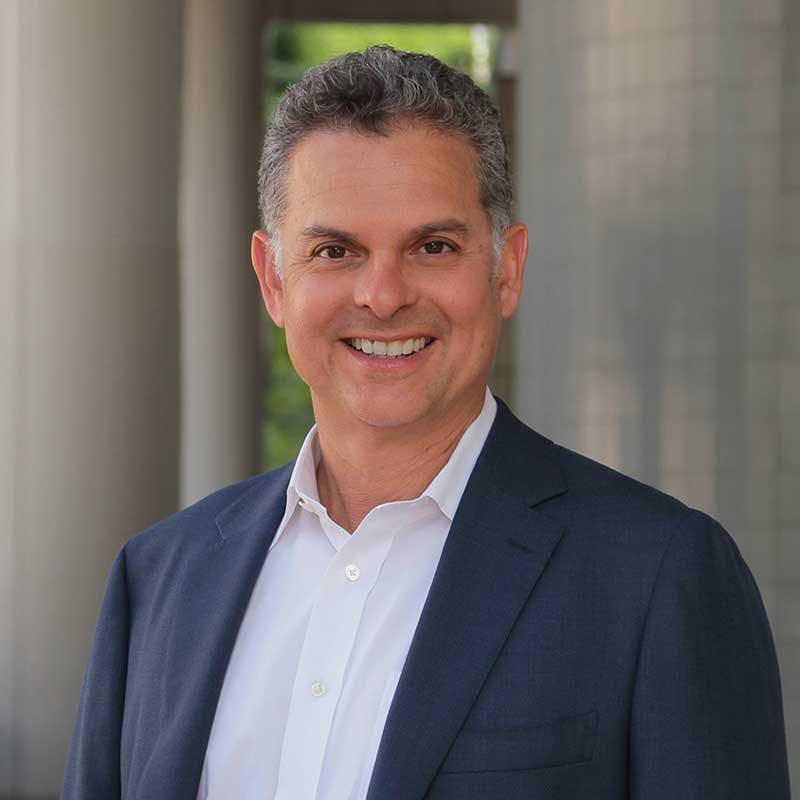 What do you find most intriguing about Infinity Shore Club from an architectural perspective?
Bob: We've been working on Infinity Shore Club since 2017 and the first thing to note is that it is a project of high quality, every step of the way. It is set out to be a very unique address, with an equally creative design solution. We have the luxury of designing a project that spans over five contiguous waterfront lots, which allows for a lot of creative and unique designs and features that you normally would not be able to do with a single or even two waterfront sites let alone five. With more than 250 feet of waterfront, we took the brave step to design a two-tower plan which actually costs more to build but will add tremendous value now and over time. The center piece of the namesake building is the Infinity pool proudly almost hugging the two towers. Additionally, we were able to design larger setback which makes the building more luxurious with larger side yards and more daylight. Finally, we designed the units with sliding NanaWalls that open the indoor spaces to extra-large decks so that the residents can enjoy the outdoor space as part of their extended living area.
So where do you even begin?
Bob: At a high level, we wanted to establish what the experience would be for the unique setting – this unbelievable waterfront location. We ask a lot questions like, what is it like to live here, to wake up here, to almost take a permanent vacation here and yet be so close to Downtown Seattle? Clearly, we were going to have a lot of glass, large outdoor/indoor living spaces, and community elements such as a club house, pool deck, roof deck, and backyard oasis – all of which add to the high-quality lifestyle of the community.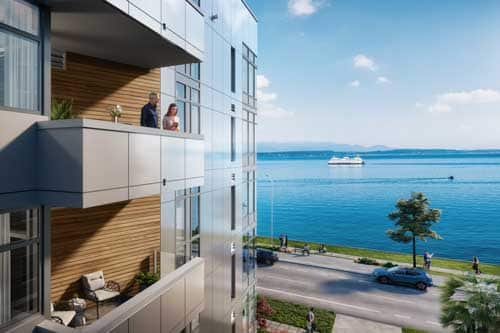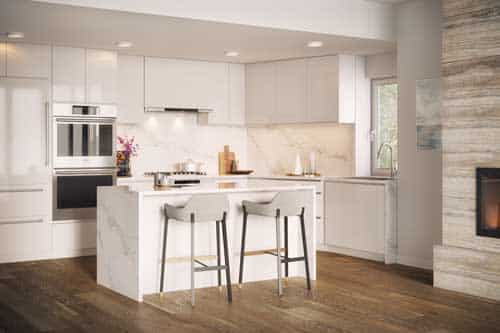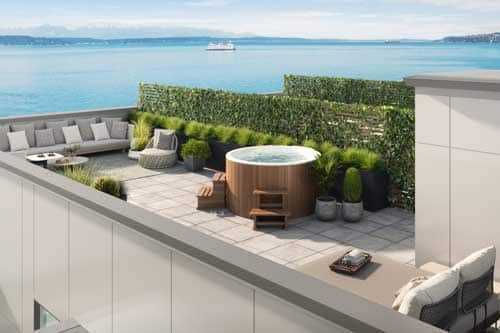 What guides your process with a project specifically intended to reflect Seattle's coming of age design?
Bob: You have this incredible opportunity to create this awesome experience on Alki Beach. The goal is for every unit to have a water view, although the hillside view is also really nice for units that have views in both directions. And we consider what we believe the buyer wants in a home at this location. For the buyer seeking added luxury, we designed the building with two separate cores so that the elevators have access to no more than four units per floor.
We are excited to design an iconic living statement. The Seattle market is ready and yearning for a world-class product like this. Our goal from the very beginning was to design Infinity Shore Club so that it would be one of Seattle's quintessential waterfront buildings that stands the test of time and rises to the same level as any luxury waterfront condo on the west coast and around the world.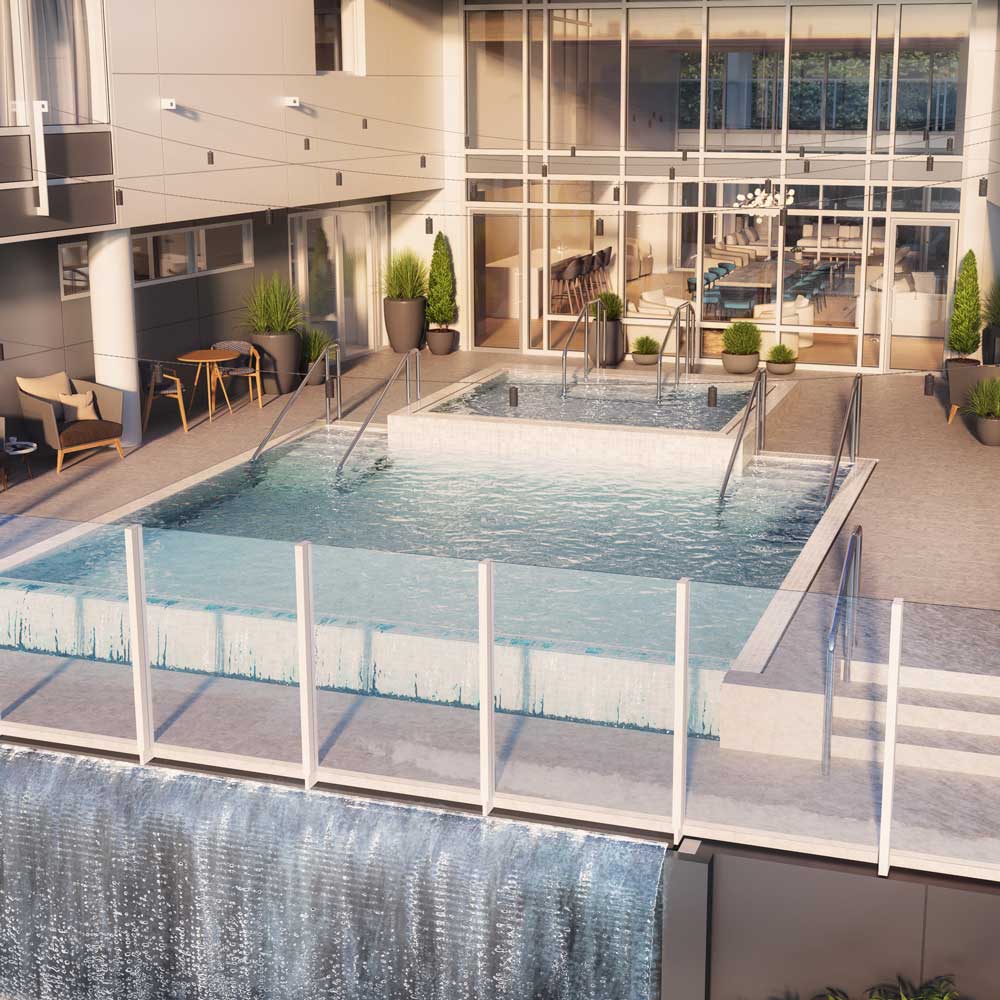 What can you tell us about the impact of such a unique design?
Bob: Infinity Shore Club is located on one of the most walked sidewalks in Seattle, so we wanted to create a strong curb appeal and lobby experience. The first thing you'll notice is two distinct masses with a center court. This is a large project for Alki. It's the same height as other buildings but having five lots allows for larger unit sizes that take advantage of the expansive waterfront and sunset views. It's certainly a contemporary expression with the balconies, strong horizontal lines and transparency. There is a lush, landscaped area and waterwall connected to the infinity pool, which is oriented toward Puget Sound. We are creating a significant impact and pushing luxurious design you haven't seen in the greater Seattle area before.
How are you approaching the shared spaces at Infinity Shore Club?
Bob: The amenity space is very important. Infinity has more amenity space than most buildings of its size with only 37 units. It has even more to offer than the high rises in Downtown Seattle. The lobby is bigger than it needs to be and the club room has a lot more volume that it needed. Within the envelope, they could have more square footage available for sale, but they prioritized the amenity spaces. Infinity even has its own private Oasis in the back of the building that takes advantage of the lush hillside that anchors our design.
Vibrant Cities gave us a lot of room to utilize our creativity, which architects appreciate. So now, together we've set the new bar for Seattle. We all entered this project with the capacity to consider big ideas and that's what we're delivering.