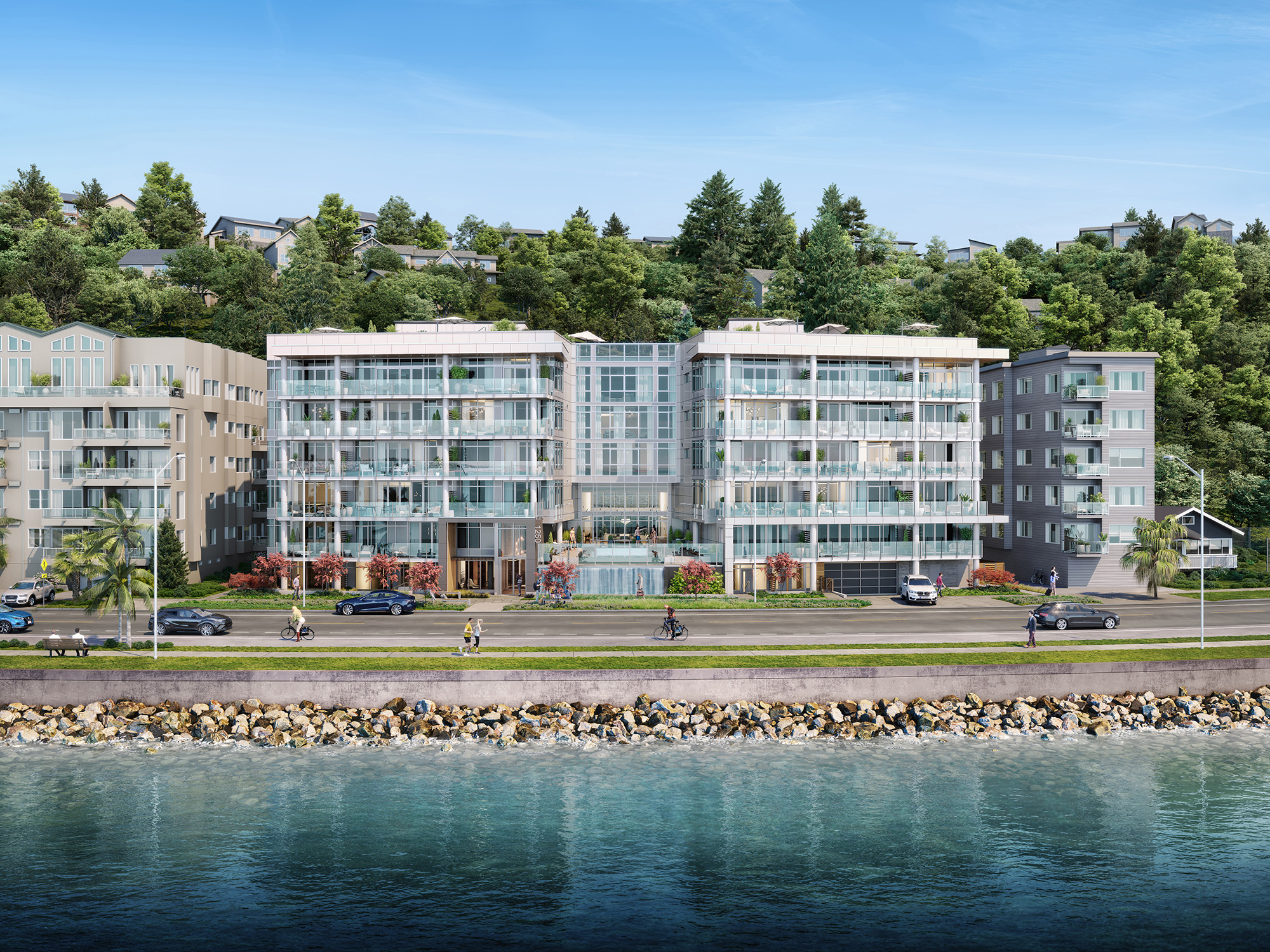 Realogics Sotheby's International Realty and Vibrant Cities Reconvene Sales of Ifinity Shore Club Residences. Announce Resolution to Contractor Dispute
Executives from Realogics Sotheby's International Realty (RSIR) and Vibrant Cities, the development Manager of Alki Project, LLC, jointly announced the settlement of the contractor lien dispute allowing for presale closings to commence immediately. The agreement clears title for the new, luxury beachfront condominium units, so RSIR will immediately reconvene with sales, including converting their prior reservations to purchase and sale agreements. The First closing was Unit 4C, a two-bedroom, two-bathroom condominium estate that sold on June 12 for $1,724,950. The home comprised 1,244 square feet of interior floor area and 169 square feet of exterior floor area for a total of1,413 square feet of combined living space. Market watchers say this sale establishes a clear benchmark for luxury living on Alki Beach.
"We are elated to move forward with closings and now, fully realize our vision for Infinity Shore Club Residences," said Ming Fung, President of Vibrant Cities. "We have tremendous gratitude to our patient homebuyers, the broker community, and our development team members for navigating this unfortunate delay together. However, good things come to those who wait. This First-of-its-kind condominium estate on Alki Beach took more than 20 years to bring to fruition, and now we bestow this new community to our current and future homeowners."
Fung confirms the timely resolution between the developer, contractor, and lender syndicate aligns their interests toward a successful sellout of the community without further interruptions. A formal grand opening event is targeted for late July 2023, which will follow additional closings that are now being scheduled.
"Infinity Shore Club Residences is the epitome of luxurious bayside living—simply nothing compares in the region," said Mark Braseth, who will be the community's first resident along with his wife Susan. "The location, the architectural design, the finish specifications, and the amenities are matchless on Alki Beach. We've been waiting for the right opportunity to make us move, and we've found the perfect fit just in time for summer."
Braseth a􀂨rms Infinity Shore Club Residences delivered on the promise of "condominium estates," the architect's vision to build all larger format homes with voluminous ceilings, generous outdoor terraces, ample secured access parking and storage, and more than 13,000 square feet of interior and exterior amenity spaces to be shared by only 37 homeowners.
"This boutique community is a collectable address that is inherently rare and as such, valuable," adds Braseth. "We are excited to enjoy a lifestyle investment that is so quintessentially Seattle."
Dehlan Gwo, RSIR's Vice President of New Developments, will personally lead the sales efforts with support from his listing team. Currently, there are a dozen presales or reservations in process.
"The sun is out, the beach is warming up, and so are homebuyers," said Gwo. "The recent closing and pending sales define a real estate microclimate for West Seattle as we establish a new benchmark for super prime property in this unique waterfront submarket. We are now scheduling private tours and accepting new purchase agreements. As the namesake suggests, our views will go on forever, but this opportunity won't last."
Heidi Nevin and her husband John Patrick were among the reservation holders who secured a future purchase opportunity while the contractor lien matter was being resolved.
"We are now in the process of converting to a purchase and sale agreement and eager to downsize from our current Lake Washington waterfront residence in the coming weeks," said Nevin, who is also a broker with RSIR. "As a Realtor, I'm familiar with the chain of title. Now that the project is cleared for closings, I believe it's about to become more competitive for buyers. Infinity Shore Club Residences is extraordinary real estate, and I feel fortunate to have identified a preferred home during the intermission of sales."
The recent closing, new sales, and impending occupancy schedule is welcome news to buyers and agents alike, as was the most recent inflation rate data released by the Fed. By most accounts, both the Consumer Price Index and mortgage interest rates are expected to retreat through 2023, allowing prospective homebuyers to realize more purchasing power. Meanwhile, the closely watched S&P/Case-Shiller Home Price Index revealed the second consecutive month of price gains for the US National Index as of March 2023 (the most recent dataset), signaling a housing rebound anticipated to make its way westward.
"Most of the impacts from Fed bank rate increases have been priced into the market already, and the decline of listings and increasing demand is firming up a clear infection point in our local market," notes Dean Jones, President and CEO of RSIR. "What we know for sure is the supply pipeline is pinched and it could be many years before we see more condominiums break ground, especially in a unique location such as Alki Beach. Comparable waterfront developments in Vancouver, BC, or Southern California would trade at twice the price, and they are far more plentiful."
Jones confirms the S&P/Case Shiller Home Price Index speaks only for resales of existing single-family homes and it doesn't include data for condominiums or new construction of any kind. He says projects like Infinity Shore Club Residences define their own real estate microclimate, and recent appraisals and closings demonstrate the current market values.
"For prospective buyers at Infinity Shore Club Residences that need to sell a home to make their way to this new condominium estate, there's a good chance they'll be successful as our market reboots," said Gwo. "Consumers are realizing that today's higher mortgage rates are a temporary headwind, while a sharper purchase price is a forever bene􀂦t. Most pundits anticipate lower interest rates ahead, setting up for a refinancing opportunity.
"Gwo believes that replacement costs for Infinity Shore Club Residences would require additional 25-30% premiums to pencil the development considering inflation with construction costs, higher interest rates, and the steeper underwriting requirements for commercial bank loans.
"One of the most valuable attributes about this project is the fact these homes are available for immediate purchase and occupancy," concludes Gwo. "It could be another few decades before we see another land assembly and vision realized such as this."