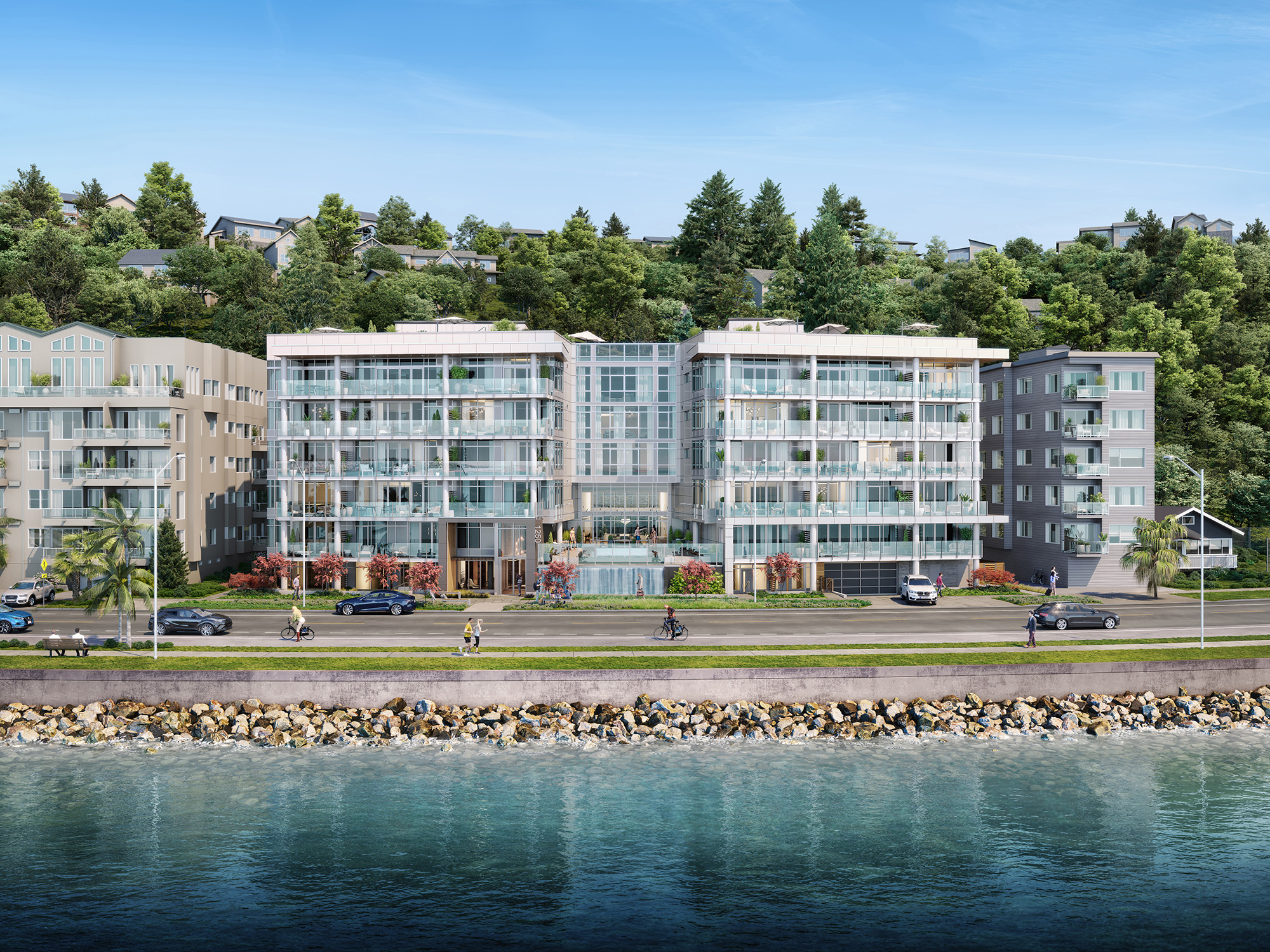 40-Unit Condominium Project on Alki Beach to Bring Luxury, Exclusivity, to West Seattle | The Registry
Alki Beach is one of Seattle's most iconic neighborhoods. Not only is it a well-loved spot amongst locals, but the neighborhood that stretches along Alki is perhaps one of the most visited spots for those traveling to the Puget Sound. As the region's multifamily market has heated up, one development team is looking to bring a product as unique as Alki to the market. The Infinity Shore Club Residences, a 40-unit luxury condominium project, broke ground in December of 2019 and is the largest condo project planned for West Seattle in 2020.
The idea for these waterfront residences arose when Vibrant Cities' CEO James Wong was on vacation with family in Acapulco, Mexico. Looking at the expansive ocean views from a friend's apartment, Wong realized that Seattle had almost no product offerings that were similar and wanted to introduce something new to the market.
"I grew up in Seattle, and went to middle school and high school in West Seattle, and after school I would hang out on Alki," explained Wong. "This is iconic Seattle. We knew that Alki is really well known, and we wanted to design and build something that would lift the market and fit right in."
The project has been a long time coming. It took Vibrant Cities and a previous property owner 23 years to assemble five waterfront parcels on Alki Beach, and according to Wong, managing to buy all five was nothing short of extraordinary. 
"To get five houses in a row, that's an act of God," said Wong.
The six-story building will total more than 102,000 square feet and have 40 units. 3,000 square feet of clubhouse space, a two-story lobby and greenspace on the roof are part of the project plans. However, the main focal point of the development and primary design inspiration is the project's infinity pool. Situated between the project's two towers, is a sundeck and the pool with an integrated hot tub. The hot tub flows into the pool, which then flows into a fountain and cascading water-wall adjacent to the public pedestrian walkway. 
"The reason why we called [the project] Infinity Shore Club is because the showcase piece is our infinity pool," said Wong. "The idea is limitless."
"I think our main goal, overarching, was to bring luxury waterfront living to Alki," added Kate Miller, associate principal at Tiscareno Associates, the project's architect. "As the architect, we were really interested in maximizing views out to the surrounding natural elements and tying the building into that context."
The project team moved forward with the two-tower concept in an effort to give the development as luxurious a feel as possible, with ample connection to the pool, Alki beach and surrounding neighborhood. The courtyard, located on the second floor, is glassed-in and with two towers, residents only have a few neighbors on each floor.
The two-tower concept was dubbed "horizontal high-rise," by the development team, in part because instead of wood frame construction, steel and concrete will be used instead, similar to many of the high-rises that make up Seattle's downtown core."
"In addition to thinking about luxurious waterfront living, we wanted to be very exclusive, almost like a club," said Wong. "It is more expensive to build this way.,.we felt that with concrete and steel, it has the same luxury and privacy—and longevity—as those high rises found in Downtown Seattle."
Metal cladding, wood accents and transparent facades created using window walls all seek to create a timeless design inspired by Alki beach.
"We have two distinct masses and the center court that helped the buildings blend into the building, stated Bob Tiscareno, principal and founder at Tiscareno Associates. "The balconies and massing shifts and facades, these elements create a unique address…When you look at the design, the proportions and the scale of  the design's articulation are familiar, but it's very contemporary and timeless."
Balconies extend the entire length of individual units and are roughly eight feet deep, another additional connection to the Puget Sound that will front the building upon its completion.
The project is the third collaboration between Tiscareno Associates and Vibrant Cities. Previously, the pair of firms has worked to develop The Cove in Capitol Hill and Pivot, also near Capitol Hill and the Pike/Pine neighborhoods.
"In each case, each of these sites that we have worked on has a unique site and it has a unique program and a high expectation in terms of how the design creates a unique product," said Tiscareno.
"Because we have done multiple projects together, there is a lot of trust," added Wong. "We know that we are all working towards a common goal of doing the best we can for this project."
That common goal has been to bring something brand new to Alki—and Seattle. Construction started on the project, which will include one-, two-  and three-bedroom units, along with penthouses, loft style and two story units, at the end of 2019. Delivery is anticipated for the late summer of 2021, according to Wong. Pricing will range from about $1.5 million to $5 million.