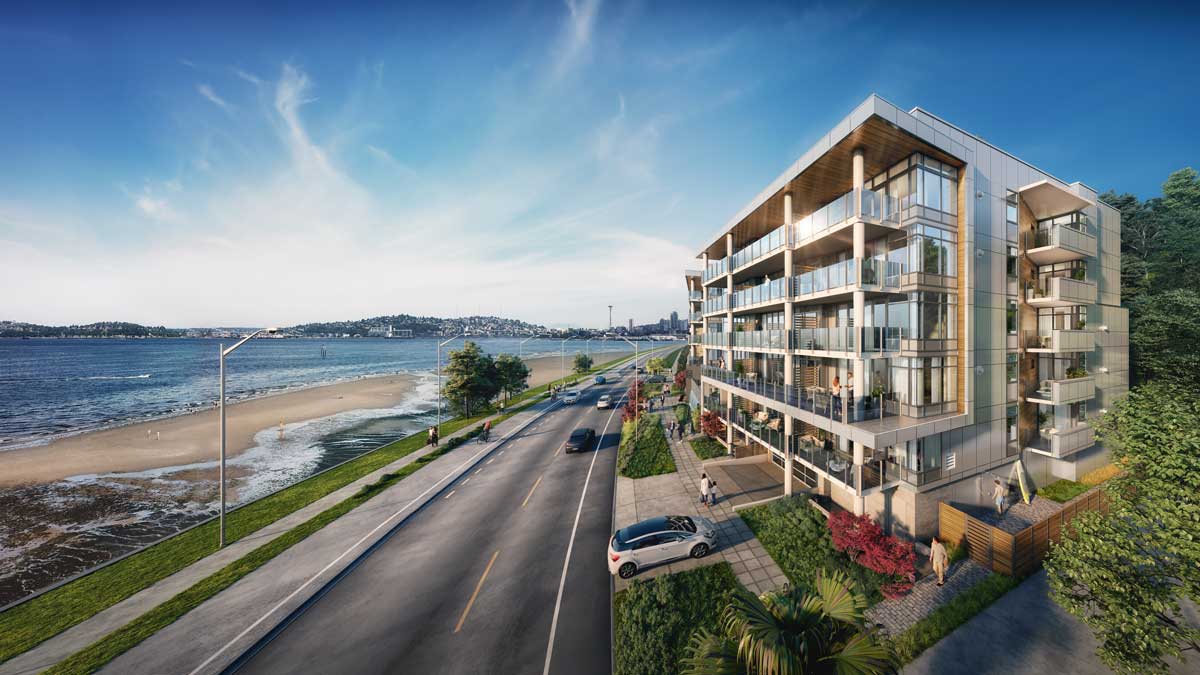 Bold Design Taps Full Potential of Unique Waterfront Site
Bob Tiscareno is founder and design principal at Tiscareno Associates.
An iconic location demands inspired architecture. That was the mindset behind the Infinity Shore Club Residences. Designed by the Seattle firm of Tiscareno Associates, the Infinity Shore Club Residences brings 37 units of large, luxury homes to the celebrated Alki Beach neighborhood of West Seattle.
The Infinity Shore Club takes its name from the infinity pool tucked between two glass, steel and concrete residential towers on Alki Avenue Southwest. Each of the six-story wings provides panoramic views of Elliott Bay, the Olympic Mountains and the Seattle skyline.
Developed by Vibrant Cities of Seattle, the Infinity Shore Club will welcome residents later this year, capping a journey that began in 2017 for Bob Tiscareno, architect and founder of Tiscareno Associates, and his team. In this Q&A, I share thoughts on the opportunities and challenges of creating a design for this unique waterfront property.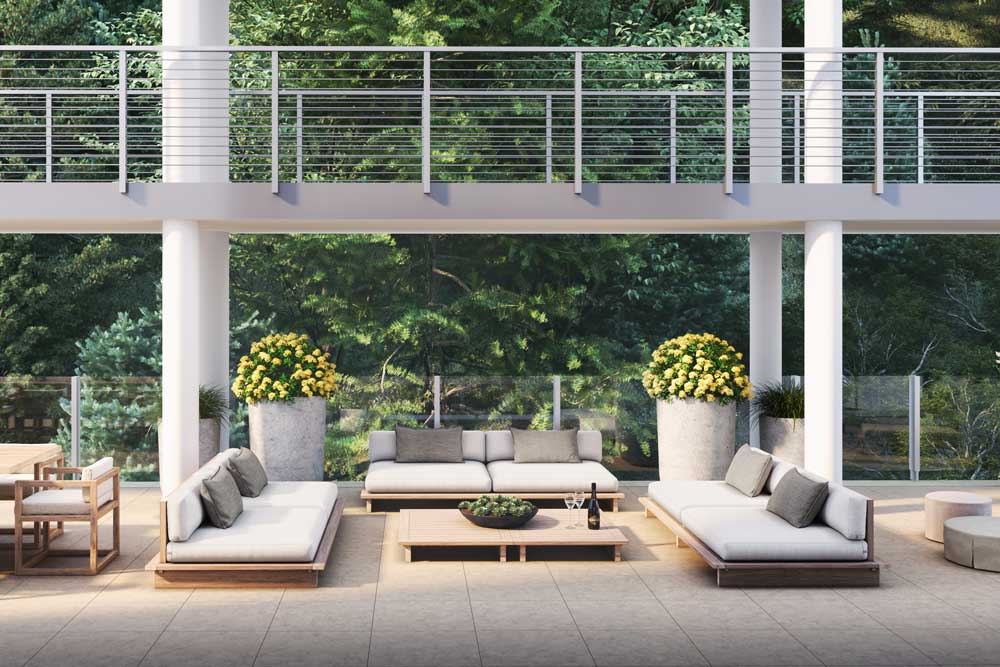 Q: What was the biggest opportunity?
A: This was a rare chance to create something spectacular on Alki Beach. We had the luxury of designing a project that spans five contiguous waterfront lots, which allows for a lot of innovative designs and features that you normally couldn't do with one or even two waterfront sites. Our goal from the very beginning was to design a highly identifiable building with amenities on the same level as luxury waterfront condos on the West Coast and around the world.
Q: How did we get to this design?
A: Our vision from the start was to have a lot of glass, large outdoor/indoor living spaces and community elements such as a clubhouse, pool deck, roof deck and backyard oasis. But we also asked a lot questions about what would it be like to live in this vibrant neighborhood, wake up across from the beach and enjoy a more or less vacation lifestyle so close to downtown Seattle. We wanted to define the Infinity Shore Club experience and push the envelope of luxurious design in a way you haven't seen in the greater Seattle area before.
We spent many meetings discussing the design concept and building layout with the neighbors to get their support on our vision. Additionally, we spent significant time with brokers to understand what program would be well accepted in the market. This led to providing two stalls per unit in a below grade garage.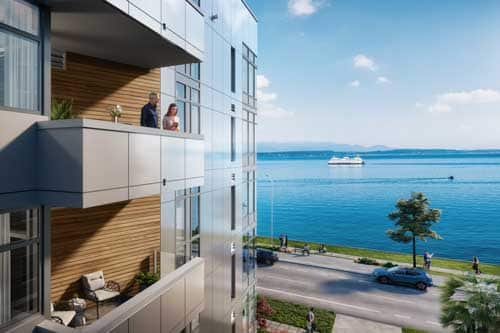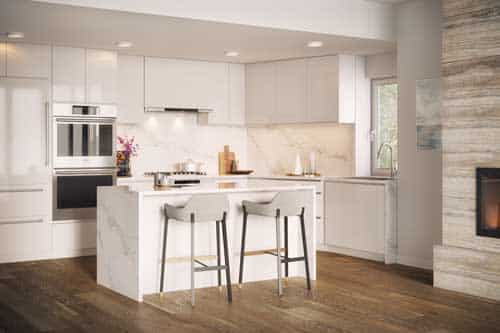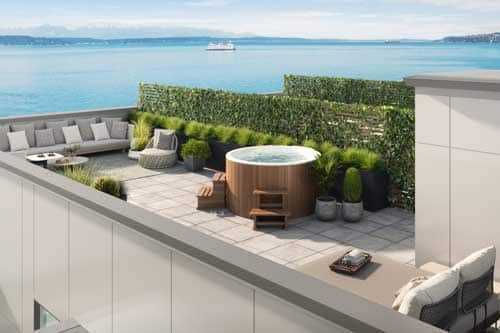 Q: What was the biggest challenge with this project?
A: The rectangular lot is pressed between a steep hillside and the curving shoreline along Alki Avenue, which limited parking access and footprint options. We tailored our design to follow the shoreline's contour by splaying the design into two wings united by a glassed-in courtyard. The visual effect of two buildings divides building mass while also allowing for two elevator cores for better circulation and resident privacy. The goal was for every unit to have a water view, although the hillside view is also really nice for units that have views in both directions. A major challenge was also to create unique residential floor plans of mostly two- and three-bedroom units.
Q: What do you find most intriguing about the architecture?
A: We set out to create a timeless design that will still look fresh in 25 years. When you look at Infinity Shore Club's overall design, the scale, proportions and articulation are all familiar. There is an expressed base, middle and top, yet at the same time the design is very contemporary with balconies, strong horizontal lines and abundant transparency. With more than 250 feet of waterfront, we were able to take the bold step of creating a two-tower plan that actually costs more to build but will add tremendous value by increasing daylight with windows and views. The centerpiece is an infinity pool in the courtyard that occupies the space between the two residential towers.
The courtyard also features a sun deck and a dramatic cascading waterwall at street level for pedestrians to enjoy. A soaring two-story entry leads to a variety of unit types that incorporate warm woods, stone tile and ample windows for a residential resort aesthetic. Sliding NanaWalls open the indoor spaces to extra-large decks so that the residents can enjoy the outdoor space as part of their extended living area. Creative layout of the roof deck provides both private and communal areas with outdoor kitchens, fire pits, greenspaces and pathways.
Q: How does the project respond to its surroundings?
A: We really paid attention to the interaction of the building with the community. The building is set back farther than zoning requires to allow daylight and landscape between neighboring buildings. Having two distinct masses with a center courtyard is extremely helpful in this regard. We also wanted to create strong curb appeal and an attractive lobby because of the extreme visibility that comes with being located on one of the most utilized sidewalks in Seattle. To this end there is a lush, landscaped area and a waterwall. This is a large project for Alki. It's the same height as other buildings, but having five lots allows for larger unit sizes that take advantage of the expansive waterfront and hillside views.
– Article courtesy of Seattle Daily Journal of Commerce